Amuse Your Moment

Envisioning a vibrant tomorrow

A celebrates its 40th anniversary as our artists and staff coordinate their efforts to pursue the creation of art based on our shared idea, that the only way to captivate someone's heart is to offer inspiring and impressive moments,
as we gain support from fans.
In recent years, the world is changing more rapidly than you would imagine,
so are people's lifestyles.
We consider the 40th anniversary to be another milestone
from which we start our business anew.
We have also developed a new brand vision, Amuse Your Moment,
envisioning a vibrant tomorrow.
This represents our determination to become a corporate group capable of coloring many different lives by thinking outside the box.
"We will keep taking on challenges to envision a vibrant tomorrow."
AMUSE CREDO
Be a Game Changer (We open up new frontiers to see beyond the next trend.)
Go for Crazy (We encourage our employees to be creatively crazy and promote an environment that supports the strength.)
Speed and Flexibility (While driving change, we strive to be fast, flexible, and efficient to deliver results.)
Desire for more (We empower our employees to never be satisfied with a "good enough" attitude.)
Sincerity (We always build a sense of understanding and compassion towards other individuals.)
Be Professional (We strive to be professional and responsible in everything we do, not shifting blame onto others.)
High Integrity (We are committed to be ethical, responsible, formal, respectful, honest, and genuine, not just to comply with laws and regulations.)
TEAM AMUSE (We seek to thrive together as a team by continuously setting the bar high for ourselves and for each other.)
Origin of Company Name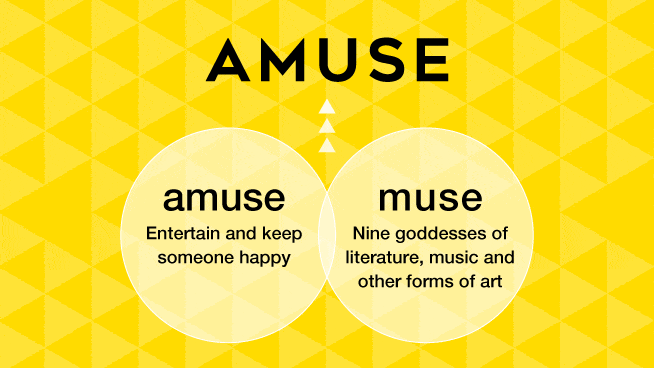 The word amuse means to entertain or please, while muse is one of the nine goddesses who inspired literature, music and other art in ancient Greek tales. The company name, Amuse, comes from these words.